My free country is an exhibition about Estonian history in recent 100 years. Opened in the 100th anniversary of Estonia, this exhibition takes us throught different stages of the past. Placed on the second floor of the castle of Maarjamägi, the exhibition fills different rooms with different athmospheres. Built on the perception of the athmospere in the rooms, each room offers a different feeling and story.
Minu Vaba Riik on 2018. aasta veebruaris avatud Ajaloomuuseumi näitus Maarjamäe lossis. Näitus on osa Eesti Vabariik 100 programmist.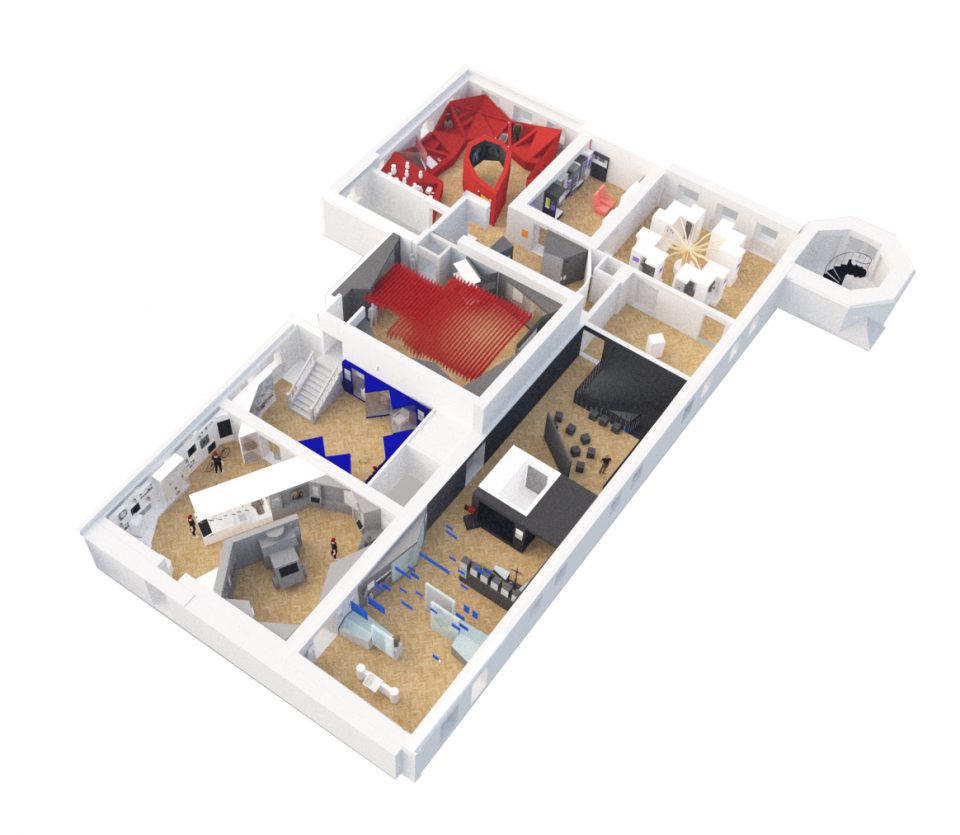 EV100 ekspositsioon MINU VABA RIIK on üles ehitatud kronoloogiliselt. Näituse teemablokid paigutuvad Maarjamäe lossi II korruse tubadesse. Iga ruum pakub erinevat, teemaga seostuvat elamust, koos moodustavad need meeleolude maastiku ehk atmosfäärilise keskkonna riigi ajalugu jutustavatele esemetele (ja tegelastele). Ruumielamus on komponeeritud installatiivsetest lahendustest ja valgustusest, mis vahelduvad ruumist ruumi.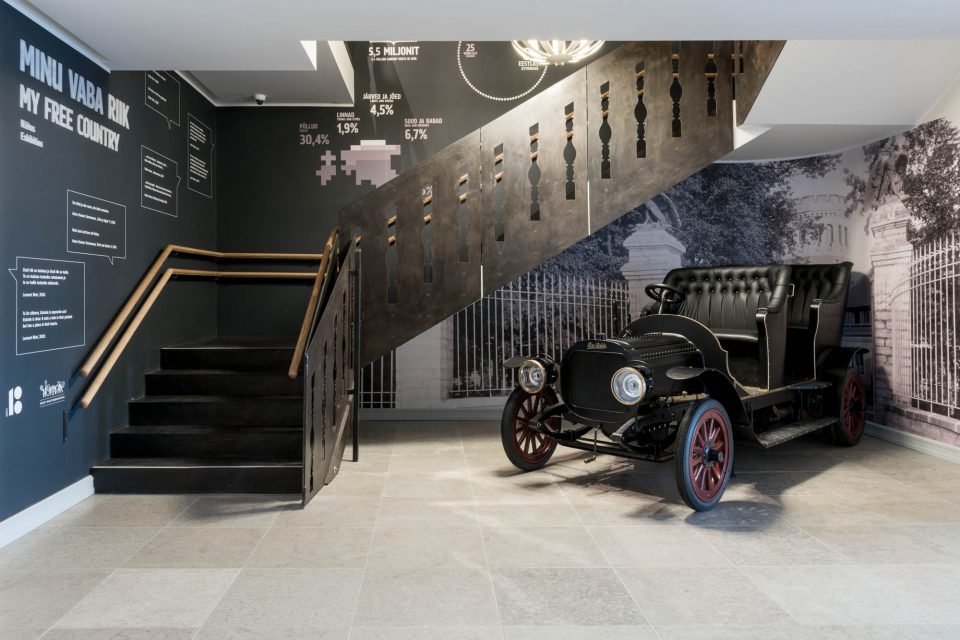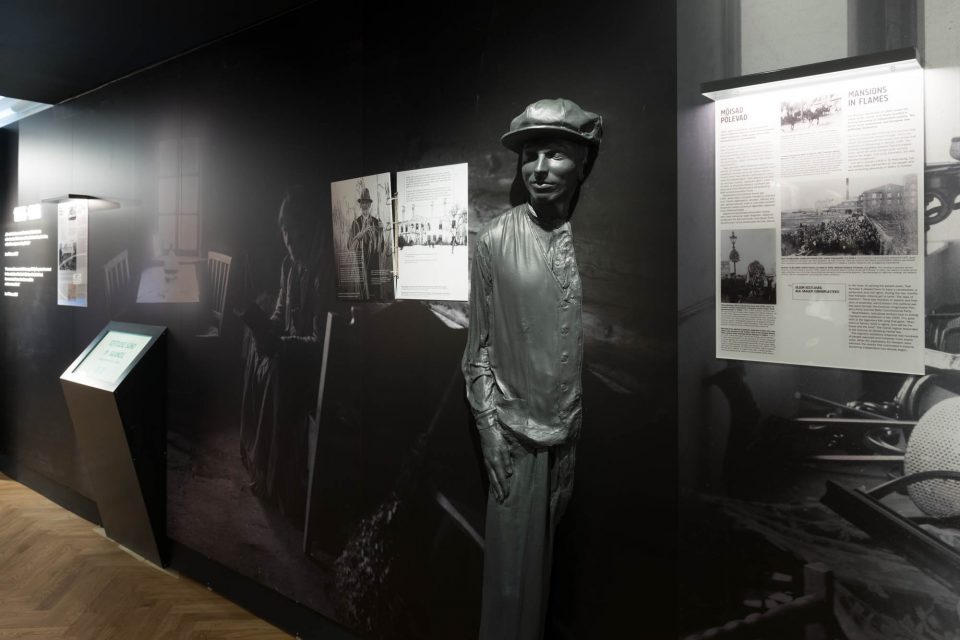 RUUM 1. EELLUGU
Pime tumedate seintega ruum, mis gradiendina muutub ruumi lõpus valgeks. Teema juhatav sisse suur film. Ruumi keskel on pingid, kus nii enne kui pärast näituse läbimist on võmalik puhata. Ruumi teises otsas on Endla teatri rõdu installatsioon, kus saab kogeda Eesti Vabariigi väljakuulutamist. Atmosfääri loovad loosungid laes, mis on ühelt poolt punased ja teiselt poolt sinised. Esemed on eksponeeritud madalates ja kõrgetes vitriinides. Oluline objekt on ekspositsiooni alguses 1905 aasta revolutsiooni rist ja peksupink, mis on eksponeeritd vitriinist väljas. Näitust sissejuhatav tekst on 1. korruse trepi alguses.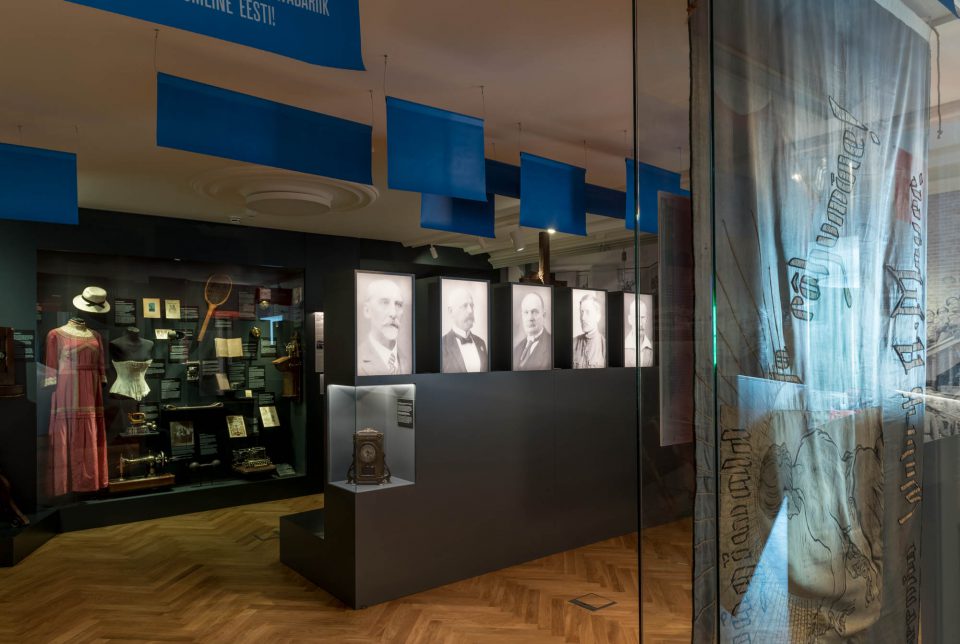 RUUM 2. VABADUSSÕDA
Pärast vabariigi väljakuulutamise helgena mõjuvat installatsiooni tumedam ja hämaram ruum (esemetega vitriinid paistavad ruumis heledamad). Atmosfääri loob okastraat laes. Eksponaadid on eksponeeritud ruumi seinte ääres muutuva kõrgusega vitriinides. Oluline objekt on soomusauto koopia ruumi keskel.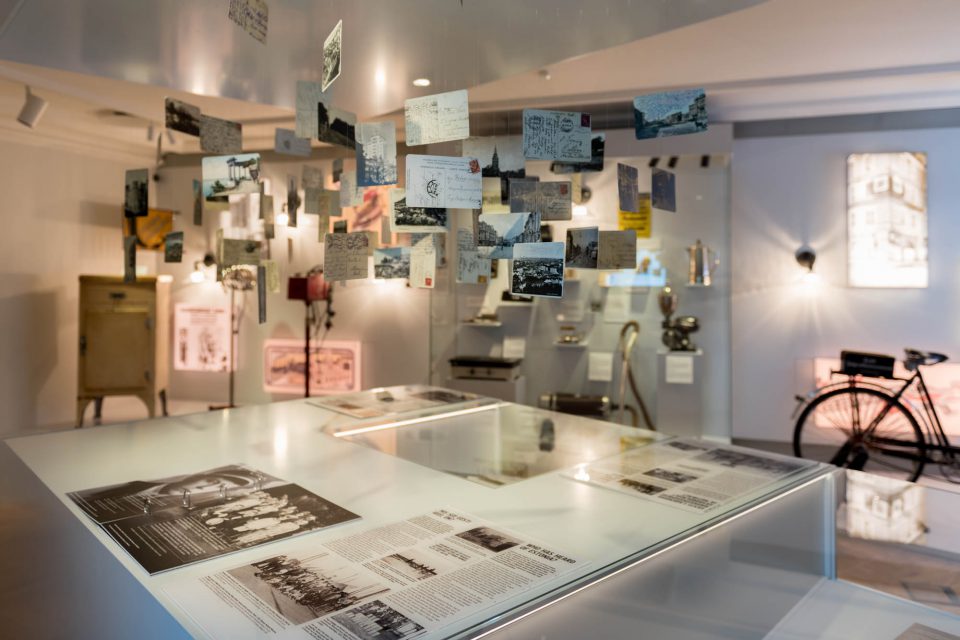 RUUM 3. 1920-1930
Helge ja särav ruum, annab edasi nö lõbusat kuldaja atmosfääri. 1920 ruumi ühes seinas on lisaks esemetele eksponeeritud valguskastidena kujundatud ajastu reklaamid ja sildid, ruumi keskel oleva laua kohal on postkaartide pilv. 1930 ruumi ühes seinas ja vitriinis on lisaks esemetele valguskastid ajastu siltidega. Teine ruumi külg on kaetud sinise sametiga ning mõjub tähtsalt ja autoriteetselt.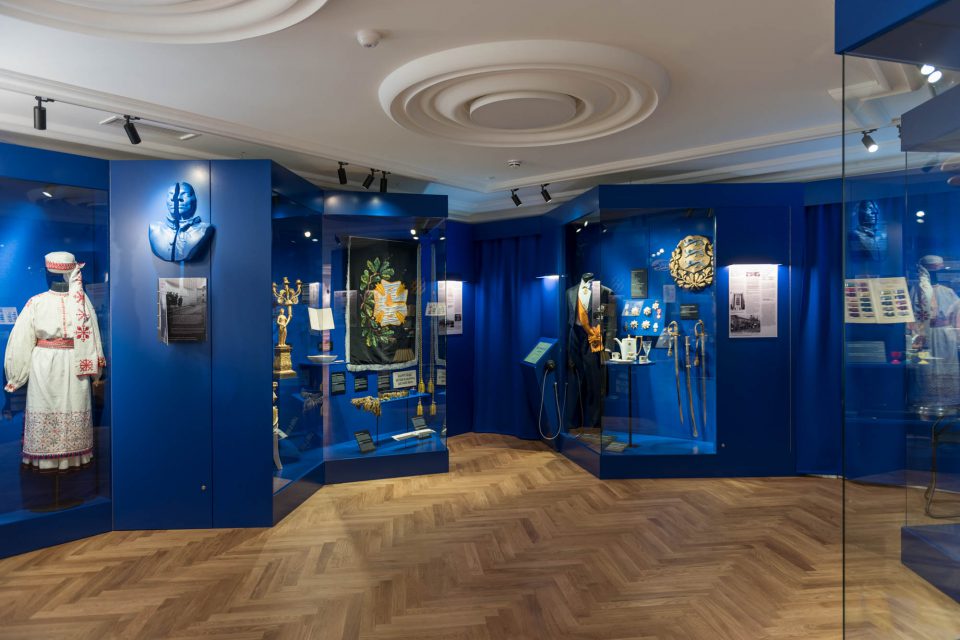 RUUM 4. II MAAILMASÕDA
II maailmasõja ruumi laest ripub lintidest rõhuvat ning rasket meeleolu edasi andev installatsioon. Lindiribad on paigutatud nii, et ruumi äärtes olevate vitriinide ees on need lühikesed, kuid ruumi keskele loovad läbipaistmatu pilve. Ribad on punasest õhukesest vildist. Valgus on hämar. Üldvalgusega on välja valgustatud hands-on objektid. Erilisena on selles ruumis valgustatud ruumis läbivalt vitriinide sokkel. Vitriiniseina lõpus asub maast-laeni nari installatsioon.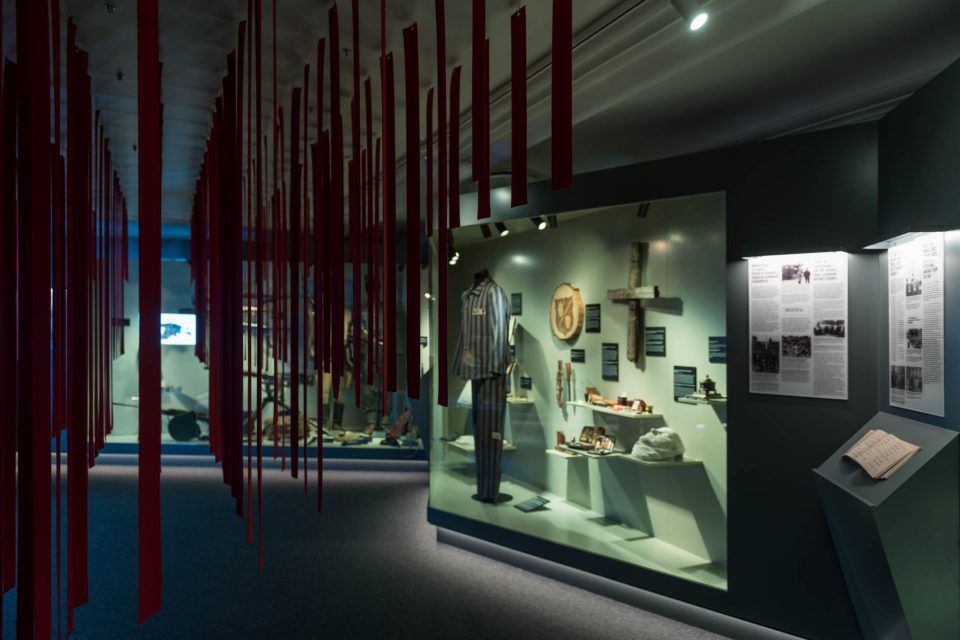 RUUM 5. NÕUKOGUDE AEG
Nõukogude perioodi ruumi täidab punane vitriini maastik, mis suunab külastaja mööda ühte rada liikuma. Ruumi keskel ripub laest väike ruum põrandaaluste tegevustega. Väljapoole jääva osa atmosfääris on valdav punane vitriin, valgus mõjub institutsionaalselt ja rangelt. Ruumi keskel olevas osas on intiimsem atmosfäär. Nö range riigiosa ja koduse põrandaaluse sahvri vahel on piilumise võimalus.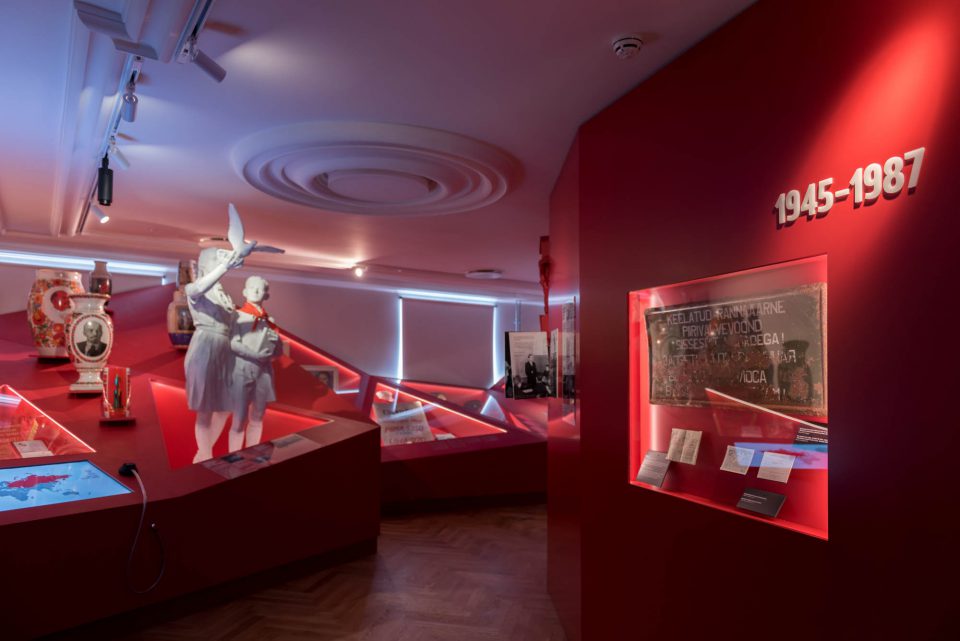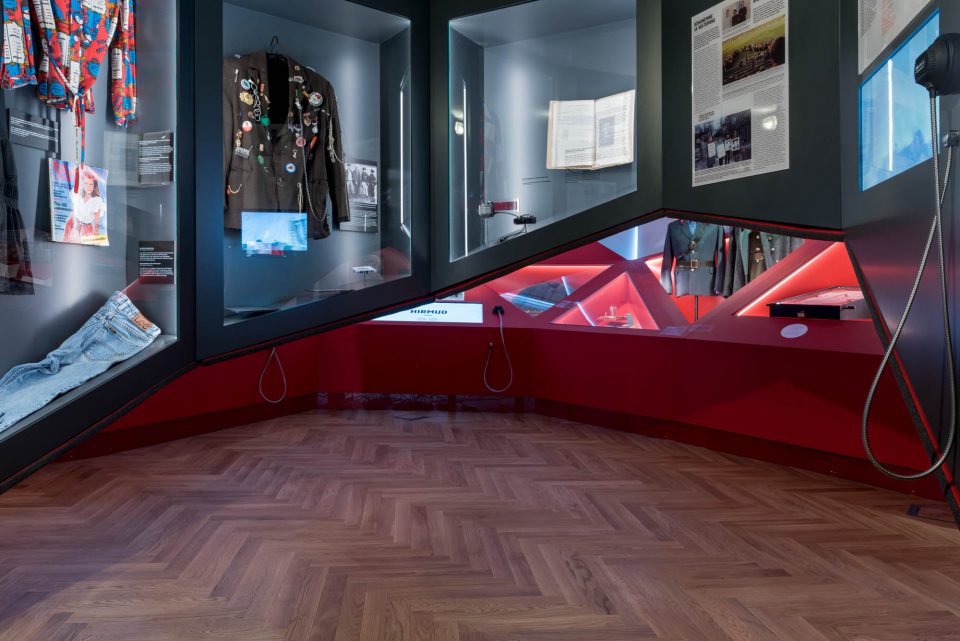 RUUM 6. LAULEV REVOLUTSIOON
See on ruum, kus tekib ühiskonnana koos olemise tunne. Seintel ja vitriinides on kasutatudpeegleid, mis paljundavad ka üksiku külastaja ruumis massiks. Meeleolu loob Lauluväljaku ja Balti keti filmid ning taustamuusika. Eksponaadid paiknevad vitriinides, mis paknevad sümmeetriliselt ruumi külgedel.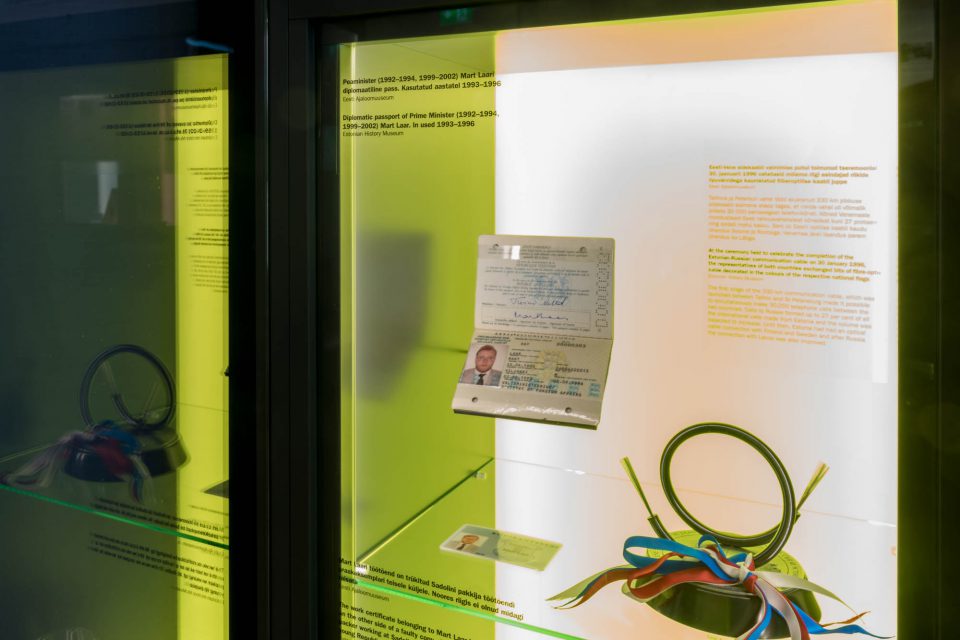 RUUM 7. 1990-1999
90 aastate ruum on kirju ning muutlik andes edasi ajastule iseloomulikku mitmekesisust ja võimaluste paljusust. Esemed on väikestes omaette vitriinides, mis toimivad valguskastidena. Ruumi atmosfääri loob vitriinis muutuv valgustugevus. Ruumis paiknevad ajastut iseloomustavad metalluks ja lennukiistmed.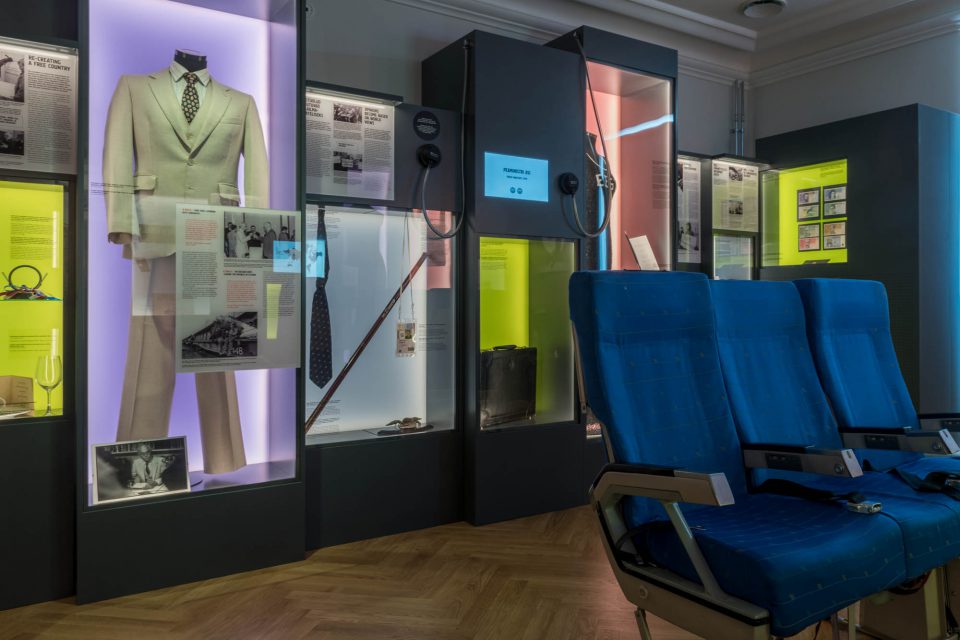 RUUM 8. 2000 – …
2000 aastate ruum on korrapärasem ja rahulikum võrreldes eelneva ruumiga. Atomosfäär on üsna neutraalne, oluliseks mõjutajaks on Euroopa Liidu teema. Käsitletud on ühiskonnas positiivseid kui ka negatiivseid arenguid, mida rõhutavad vitriini eri küljed. Ruumi keskel on võimalik istuda wifi temaatilise teose juures, infotehnoloogia arenguid eksponeerib ka ruumis liikuv pakirobot.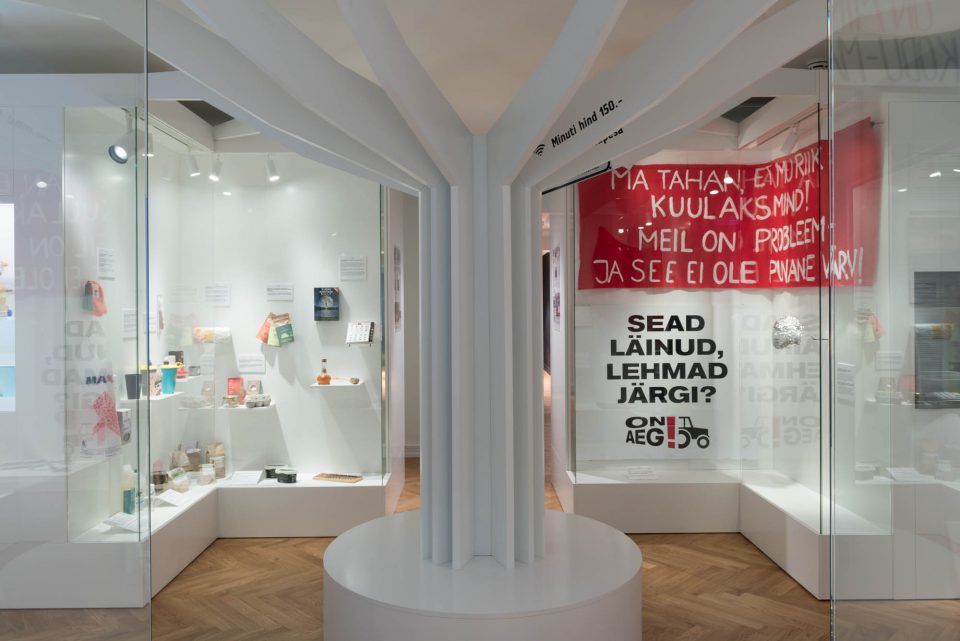 b210 arhitektid – ekspositsiooni kujundus, lasteala, mänguväljaku elemendid, lossi ajaloo markeerimine: Aet Ader, Karin Tõugu, Mari Hunt, Kadri Klementi, Helena Koop, Mari Möldre, Nele Šverns
Maarjamäe lossihoone rekonstruktsiooniprojekt: KOKO arhitektid
Esialgne maastikuarhitektuuri lahendus (Eestimaa): Lootusprojekt OÜ
Ehitaja: ekspositsioon Riksen OÜ (projektijuht: Virko Vähi), OMA ehitaja ja mänguväljak Tiptiptap OÜ
Tellija: Eesti Ajaloomuuseum
"Minu vaba riik" Peakuraatorid: Inge Laurik-Teder, Krista Sarv
Kuraatorid: Erkki Bahovski, Kirsti Jõesalu, Peeter Kaasik, Linda Kaljundi, Anu Kannike, Ivar Leimus, Tõnis Liibek, Olev Liivik, Kai Lobjakas, Maia Madar, Mati Mandel Olaf Mertelsmann, Jaak Mäll, Milan Pening, Anne Ruussaar, Kata Maria Saluri, Liisi Taimre, Hiljar Tammela, Triin Tark, Jaak Valge
Graafiline disain: Tuumik Stuudio OÜ, Identity OÜ, SASU
Filmid ja animatsioonid: Catapult Films OÜ, Denhov OÜ, Tolm Stuudio
Laste vabariigi kuraatorid: Ehti Järv, Kristi Paatsi, Sireli Uusmaa
Graafiline disain: Kristiina Tort